I would be happy to make a custom board for you. My clients seem to enjoy the fact that I allow them to select their own themes and incorporate their own ideas (colors, lettering, symbols, artwork, et.) into the custom board that I create for them. The end result is a highly effective spirit-attracting, one-of-a-kind piece of art. My prices are very reasonable and generally range between $45-$100 per board (planchette included) plus $10.00 for priority shipping/handling/insurance to continental US addresses. If you are interested in ordering, or if you have any questions or comments, please click the talking board below to e-mail me: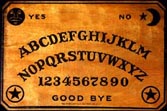 The following forms of payment are accepted:
VISA/MASTERCARD (payments through PAYPAL only!)
Money Orders, Cashiers Checks, Official Checks.
If you are unfamiliar with PAYPAL and would like to find out more information about their services or if you would like to sign up for PAYPAL, please click the PAYPAL logo:

Many of my Talking Boards may be purchased through eBay auctions.. If you would like to view or bid on any of my auction items, please click the eBay logo below::