---
Gallery 1:
CAT PROTECTOR BOARDS
The ancient Egyptians believed that cats had the ability to interact in the realm of the spirit world and the power to ward off the presence of evil spirits. Gallery 1 is for all who believe in the mystical and protective powers of cats. If you are a cat lover and would like the hand-painted image of your pet incorporated into a custom-made Talking Board please contact me with your request.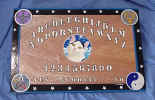 click image to enter gallery 1
---
Gallery 2:
CHARMED-LIKE BOARDS
As a fan of the WB hit TV show "Charmed", I was inspired to make the boards displayed in Gallery 2. Each board is scroll-cut to resemble a cross-cut section of a tree and no two boards are exactly alike. I like to incorporate the powerful protective symbols of the "triquettra" and "pentagram" on these boards.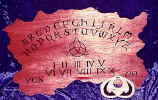 click image to enter gallery 2
---
Gallery 3:
BIZARRE BOARDS
Gallery 3 consists of some of the most diverse and creative boards that I have made to-date. You'll find bizarre boards featuring anything from evil clown themes to Celtic and Egyptian themes. If you're looking for a Talking Board that's totally different check these out!
click image to enter gallery 3
---
Gallery 4:
PLANCHETTES
All of the Talking Board's I create and sell come with a unique, hand-crafted, wooden planchette (indicator). Gallery 4 contains different designs of planchettes that I've created.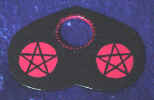 click image to enter gallery 4
---